Corrections to Canoeing and Kayaking Georgia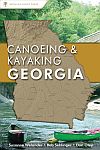 Suzanne Welander, Bob Sehlinger, Don Otey, Menasha Ridge Press, 2004
Readers, please submit corrections to:
&nbsp
FACTUAL CORRECTIONS
river name, page #, correction
Cahulawassee, p. 222, entire river below Aintry now underwater
Towaliga, p280 & 282, gradient: Falls drop 80' over a quarter mile, A-B 7fpm, B-C 6fpm, C-D 5fpm, D-E 4fpm, E-Ocmulgee 7 fpm
Towaliga, p281, distance A-B 5.2 miles, C-D 6.3 miles,
Broad, maps on pages 77-78, add symbols to indicate gauges at Ga 72 and Ga 17. Explain the gauge symbol at Ga 281; it's not mentioned in the text.

MATTERS OF OPINION
Little Ocmulgee River, p. 283, change "scenery B-C" to "scenery B+"
Chattooga of Chattooga County could have a scenery rating of "mostly unimpaired" and a water quality rating of "badly impaired"
river name, page #, suggested change

FUTURE ADDITIONS
Chattahoochee at Columbus

Chattahoochee access at Chattahoochee Bend S.P.

Murder Creek, tributary of the Oconee

Pataula Creek, tributary of the Chattahoochee

Kinchafoonee Creek, tributary of the Flint

Ichawaynochaway, tributary of the Flint

Lookout Creek, tributary of the TN

Holly Creek, tributary of the Conasauga

Armuchee Creek, tributary of the Oostanaula

Chickasawhatchee Creek, tributary of Ichawaynochaway

Extend Alapaha upstream to Five Bridge Road

Extend the Ogeechee upstream to Ga 16 at Jewell

List the Tallapoosa outfitter just downstream of the hairpin
Add a section encouraging paddling swamps and how to judge when the water is high enough